About The M42 Helmet:
The M42 helmet was modification of the M35 to reduce production time and ease manufacturing. On February 2nd, 1940 the German command ordered that all infantry soldiers be issued with a helmet, before that not all soldiers were issued with one. Since 1940 the German military grew exponentially, and the numbers of helmets needed grew with it.
The German M42 (model 1942) is actually a version of the M35. Due to the increasing numbers of German helmets needing to be made, the German command started making modifications on the M35 to increase production time. The first update was on March 26th, 1940, with the air vents on each side of the helmet being embossed into the steel helmet, instead of being separate pieces peened into place.
The final modification was done on June 6th, 1942, and was put into service shortly after that. However due to lags in the German supply chain, most M42 helmets would not see service en masse until mid 1943. During the German modifications to the M35 helmet, the helmet's rolled edge would be discontinued in favor of a raw edge, in order to save production time and raw resources.
About Our M42 Helmet Replica:
This item is a new made reproduction of the original German M42 helmet.
Our German M42 helmets are made with 1.8mm thick steel, which is exactly the same thickness used by the Germans in WWII. The helmet shell is a large size (size 68) and has the correct M1942 flared edge as well as proper pressed steel ventilation holes. For added authenticity we stamped a German wartime four-digit code at nape and ET-68 over ear.
The liner is a exact copy of the original M35 liners and has the correct eight finger configuration with central drawstring and an M1931 aluminum liner band that is maker marked, dated, and size stamped. Liner size can fit head sizes 7 (56cm) up to 7 5/8 (61cm). We use real leather on the liners.
The helmets' finish (color) is "smooth gray-green" aka "field-grau". The color is exactly like the original helmets.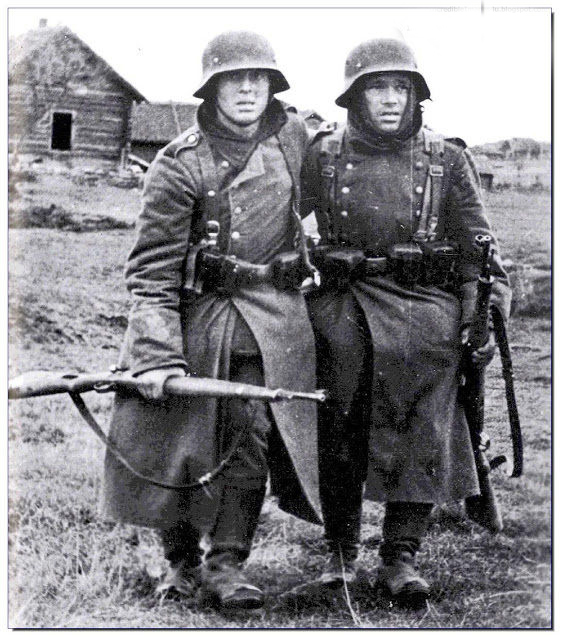 Questions & Answers:
Q: Are your helmets exact replicas of the originals?
A: Yes they are! Our replicas are made exactly how the original German pith helmets were made back in WWII. They have the same weight, specs, and color as the originals. Other than our helmets being brand new and never used, you wont be able to tell the originals and replicas apart.
Q: What if I don't like your helmets?
A: No problem, if you do not like the quality of our products, you may send the helmet back within 30 days for a full refund including shipping! We do not charge a restocking fee either!
Q: How long does shipping take?
A: Shipping for this item is $14.99 and will take 3-4 days to get to your door.